Course details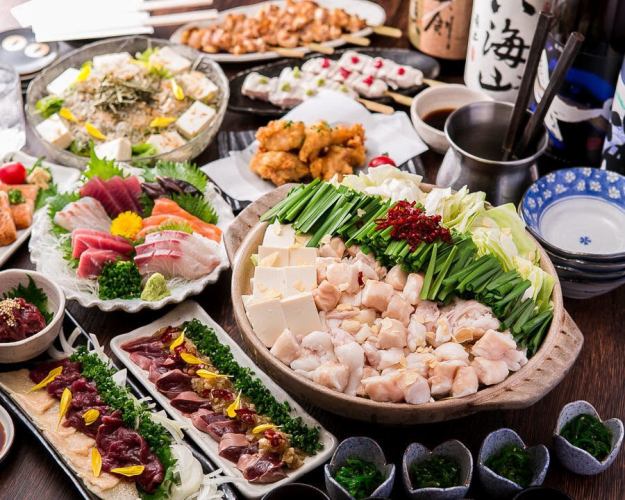 【Year End Party / Entertaining! 2 hours with all you can drink】 Higo Horse Still with Heart! 11 Tiger Course 5000 yen ☆ with Dessert ☆
By using a coupon5000 Yen
It will be charged when using coupons.(Usually 5500 yen)
11items

2

-

25persons

All-you-can-drink available

120 minutes All you can drink (LO 20 minutes in advance)
Higo Horse sashimi sushi directly served Kumamoto skewers to the skewers of the generous boasted Hinata chicken, and furthermore Amami's tuna cheek meat Ryuta fried to the desert is exactly Kyushu full of luxurious contents.※ If you do not specify at the time of reservation we will have a Hakata pot with a Hakata pot.
Course menu
All you can drink with
120 minute system (20 minutes before LO)
<First afternoon> Broiled octopus with ponzu
<Appetizer> Hakata Shimako
<Heated dishes> Kagoshima Tianba Satsuma fried deep-fried
<Salad> raw ham Caesar salad
<Fresh fish> Today's fresh fish bite
<Sashimi> Assorted Higo Horse Sting
<Cooked goods> General Cheated Chew Hinata chicken skewers 2 species
<Fried food> Amami's cheek meat fried Tatsuta fried
<Nabe> Hakata no Okonbato or a hot spicy pot or black pork shabu-shabu or chicken chicken salt pan you can choose from!
<Meals> Delicious Champagne noodles or wild cook
<Sweetness> Today's dessert
※ The content may vary depending on the season and purchase situation.
All-you-can-drink menu
·beer
· The Premium · Mortz
·Highball
· Horn balls
·Cocktail
· Cassis · Dita · Peach tree · Mojito (Please choose from the decor price, the sweet summer price, the soda placement)
·sour
· Lemon Sour · Cider Sour · Grapefruit Sour · Acerola & Rose Hip Sour · Male Plum Sour · White Sour · Oolong High · Green Tea High
·Plum wine
· Plum wine from a cat shop (Please choose from rock · water · soda)
· Shochu
· Wheat · Niseido / potato · Black Kirishima (Please choose from rock · water split)
·Sake
· Cold · Jun rice warehousing / Sake · Sake ginsengori
·wine
· Glass wine (red · white)
·Soft drink
· Oolong tea · Decorphone juice · Green tea · Sweet summer juice
Reservation deadline

Until 23 o'clock the day before the store visit date
Available days for reservation

Monday - Sunday - Public holidays - Holidays
2018/11/14 update